The Stairs Below: The Mansion's Domestic Servants, 1868-1938 October 14, 2015 - October 30, 2016
Curated by Kathleen Motes Bennewitz
Wednesday –Sunday, 12-4 p.m.
General Admission: $10 for adults, $8 for Seniors, $6, 8-18
For the first time in the history of the Lockwood-Mathews Mansion Museum, its Servants' Quarters opened to the public and feature a new exhibition entitled, The Stairs Below: The Mansion's Domestic Servants, 1868-1938. This exhibition opened on Oct. 14, 2015, 12-4 p.m. and will run through Oct. 30, 2016.
Telling the story of the Lockwood-Mathews Mansion's workforce is overdue, yet timely. Discussions nationwide on issues such as immigration and social justice, as well as the popular TV series Downton Abbey, have audiences visiting this landmark often asking about its servants and their lodgings.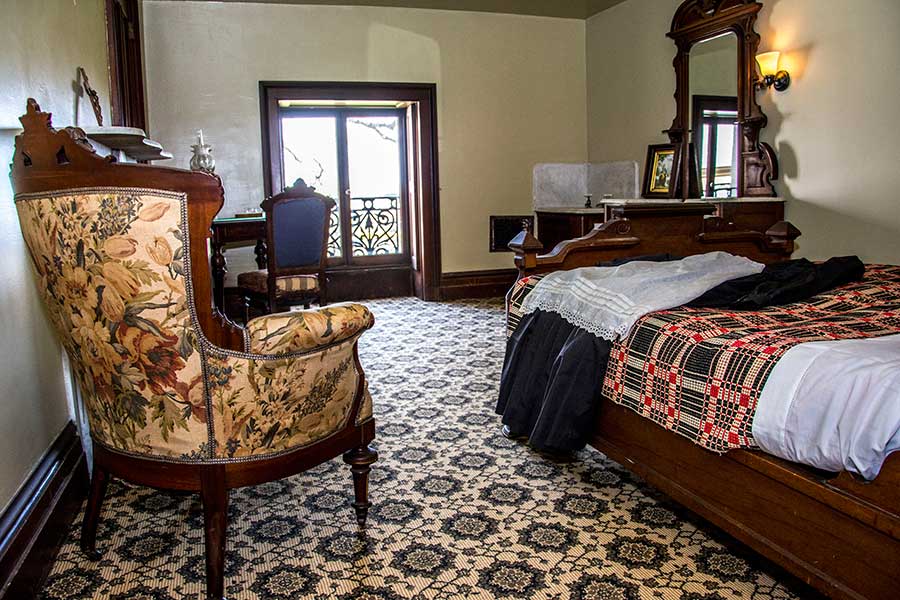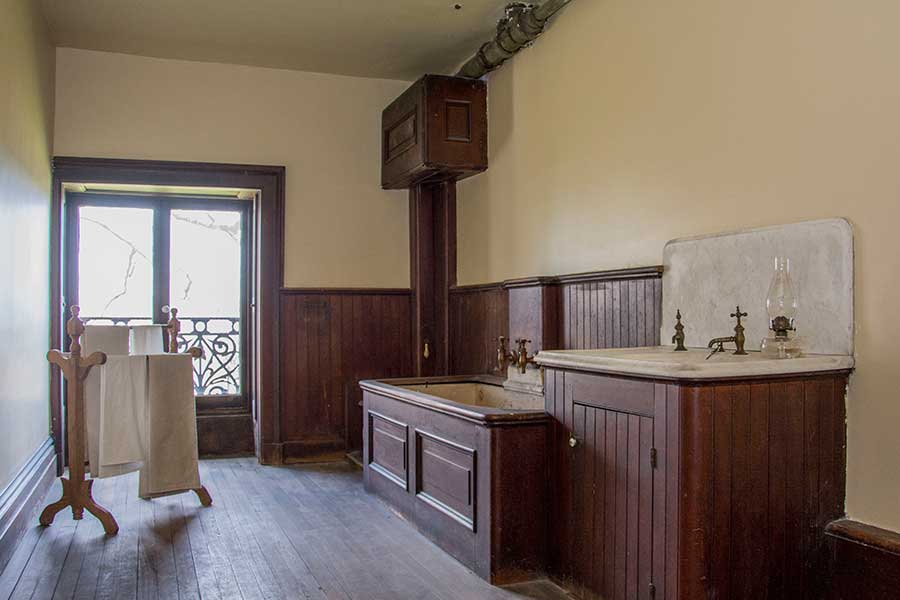 The Mansion's domestic servants' rooms "equal the chambers of a first class hotel," said The New York Sun in 1869. LeGrand Lockwood's forward-thinking spirit behind these quarters offered momentary repose from the physical demands of a seven-day work week and 10-hour shifts for those living under the same roof as the family. By following the servants' paths through the mansion, visitors will experience three distinct worlds—public, family, and service—and the social etiquette strictly enforced during the mansion's seven decades as a private residence.
The Museum's exhibition, The Stairs Below: The Mansion's Domestic Servants 1868-1938, is made possible in part by generous funding from the CT Humanities and CTC&G. The Museum's 2016 cultural and educational programs are made possible in part by generous funding from LMMM's Founding Patrons: The Estate of Cynthia Clark Brown; The Museum's Distinguished Benefactors: Klaff's, the Xerox Foundation and The Maurice Goodman Foundation.
Connecticut Humanities (CTH) is a non-profit affiliate of the National Endowment for the Humanities that funds, creates and collaborates on hundreds of cultural programs across Connecticut each year. We bring together people of all ages and backgrounds to express, share and explore ideas in thoughtful and productive ways. From local discussion groups to major exhibitions on important historical events, CTH programs engage, enlighten and educate.
The installation of the ADA Elevator and restoration of the Servants' Quarters were generously funded by the LMMM Board of Trustees, the City of Norwalk, the Norwalk Historical Commission, and the State Historic Preservation Office of the Department of Economic and Community Development. The Lockwood-Mathews Mansion Museum is a National Historic Landmark.