Our Mission
The Mission of the Lockwood-Mathews Mansion Museum is to preserve and restore this unique architectural treasure and National Historic Landmark, and to make art, history, and science inspiring, educational, and accessible to all. The Museum strives to interpret the mid-to-late 19th and early 20th centuries through public programs that engage and enrich our communities, while encouraging dialogue, learning, and creativity.
Lockwood-Mathews is dedicated to conserving and faithfully restoring the Mansion as a national historic landmark in CT and ensuring it remains a vital link to the region's past and a platform for its future. Community outreach and education through guided tours, exhibits and programs, have been a concerted focus of the Museum and will continue to be an important goal for this national treasure in the years to come.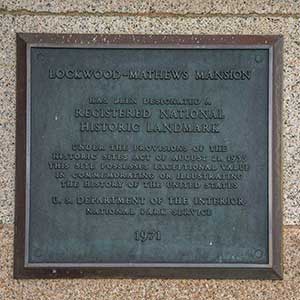 Director's Welcome
The Lockwood-Mathews Mansion Museum is an extraordinary and incomparable treasury of art, architecture, and history that blends the grandeur of America's past with a commitment to the future of our communities.
Whether you are taking a virtual tour of our Period Rooms or visiting with one of our docents, the Museum will enchant you with its unparalleled Gilded Age architecture and furnishings, its old-world craftsmanship, and innovative 19th century technology. LeGrand Lockwood's country estate with its legacy of excellence, which he, and later the Mathews family left to Norwalk and the nation, is now part of our American heritage.
The Museum, which is one of the region's leading arts and cultural centers, offers a calendar of programs and events from April through January, featuring award-winning exhibits, renowned lecturers, elegant Victorian teas for children and adults, its sought-after Old-fashioned Flea Market and many other exciting cultural and educational offerings.
Featured in A&E's America's Castles and Hollywood's Dark Shadows and The Stepford Wives, the Museum is also a breathtaking venue for corporate receptions, private parties, and storybook weddings.
Please feel free to call or e-mail us for additional information about the Museum, and keep in mind that your financial support protects and preserves a unique landmark that serves residents of Fairfield County and visitors from all across the nation. At the Lockwood-Mathews Mansion Museum, we are committed to education, culture, and community.
Susan Gilgore, PhD
Executive Director