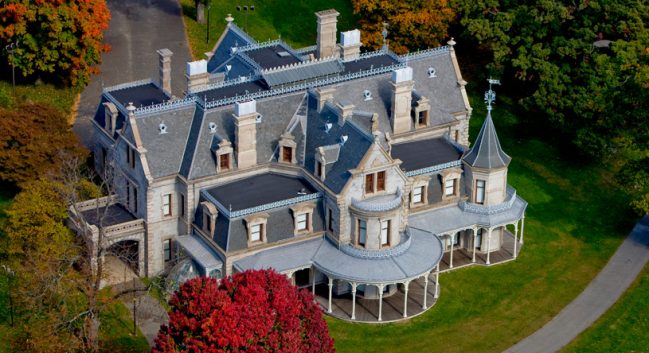 The Lockwood-Mathews Mansion Museum is regarded as one of the earliest and most significant Second Empire Style country houses in the United States. Built by renowned financier and railroad tycoon LeGrand Lockwood from 1864-1868, the Mansion, with its unparalleled architecture and interiors, illustrates magnificently the beauty and splendor of the Victorian Era.
Lockwood's financial reversal in 1869, and his untimely death in 1872, resulted in the loss of the estate then known as "Elm Park," through foreclosure, in 1874. In 1876, the property was sold to Charles D. Mathews and his wife Rebecca. Mathews, a prominent importer from New York, and his family, resided in the Mansion until 1938. In 1941, the estate was sold to the City of Norwalk and designated a public park.
The Mansion was a technological marvel of its time: it had indoor hot and cold plumbing, gas lighting, ventilation, and a central heating system that burned a ton of coal a day. Indeed, there is no comparable mansion museum in our state. Built during the Civil War and still inhabited during the Great Depression, there is no institution in Connecticut that is better able to bring to life these significant events in American history.
When the building was threatened with demolition in the 1960s, concerned citizens galvanized to save the Mansion in one the most important and hard-fought preservation battles in Connecticut's history. These local preservationists succeeded in saving the Mansion in 1965, and later formed the Lockwood-Mathews Mansion Museum of Norwalk, Inc., a 501(c)(3), which was designated a National Historic Landmark, in 1971.