Right Angle Bliss April 5, 2017 - July 9, 2017
Curated by Gail Ingis-Claus
Gen. Admission: $10 adults, $8 seniors, $6 children 8-18 years old/45 minute tour
Gen. Admission: $20 adults, $18 seniors, $16 children 8-18 years old/90 minute tour
To Purchase Tour Tickets Please Click Here.
To Purchase Opening Reception Please Click Here.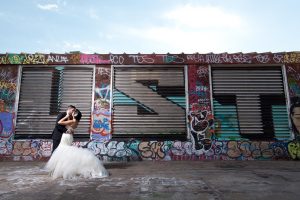 From vows taken in magnificent settings, to cutting edge images that will redefine rituals and boundaries, this exhibition will feature six up-and-coming as well as award-winning photographers that highlight today's diversity of cultures and customs in wedding ceremonies throughout the United States.
Curated by LMMM Trustee and Art Committee Chair Gail-Ingis Claus, Right Angle Bliss will capture the tenderness, whimsy, beauty, and grit of the promised, "I Do", and visually redefine this time-honored tradition through the lenses of photographers: Airen Miller, David Bravo, Stephanie Anestis, Sarah Grote, Kathy Harris, and Karol Setlak.
The exhibit, Right Angle Bliss is sponsored in part by Tom Claus and Gail Ingis-Claus. The Museum's 2017 cultural and educational programs are made possible in part by generous funding from LMMM's Founding Patrons: The Estate of Mrs. Cynthia Clark Brown, LMMM's 2017 Season Distinguished Benefactors: The Maurice Goodman Foundation, 2017 LMMM Distinguished Benefactors for Education: GE and Fairfield County's Community Foundation.
About the Photographers:
Airen Miller's photographs have been published nationally and internationally and his work has been seen on The Today Show, David Tutera's My Fair Wedding and The Tyra Banks Show, to name a few. Airen is a seeker of light in the darkness, beauty in the obscure with a mantra of, "Don't bend the rules…smash them."
About the Photographers:
In the past twenty-five years, David Bravo has photographed presidents, musicians; A-listers, CEOs and his work has been featured on book jackets, CD covers, advertising and magazines. "After more than 25 years in his craft, he has the same enthusiasm as when he started. Maybe more" said David Klang, Creative Director.
About the Photographers:
Karol Setlak attended State College for Cultural Animators and Librarians in Krosno, Poland, where he was born and graduated with a degree in professional photography. A Connecticut resident for the past ten years, Setlak believes that, "When it comes to photographing people, it is all about the perfect unrehearsed moments that reveal the essence of the subject."
About the Photographers:
Sarah Grote won the Connecticut Draft Horse Rescue's Best Photo award in 2016 and her photography continues to be featured in juried exhibitions at museums and galleries throughout the Region including, Mystic Museum of Art and Spectrum Art Gallery. She recently garnered the cover of Connecticut Horse Magazine for her work titled, "Contemplation."
About the Photographers:
With a PhD in biological anthropology from Yale, Stephanie Anestis began her career as a scientist, and "…As far from photography as it may seem," says Stephanie, "Science—especially biology—does inform my practice."
About the Photographers:
Kathy Harris said she is "blending relaxed portraiture, photojournalism, and romance" as she present through her images, "a complete photographic diary" of the weddings she highlights in her work.