Old-fashioned Flea Market September 18, 2022, 10:00 am - 4:00 pm
The 2023 annual Old-fashioned Flea Market will be held Sunday, August 27, 2023, from 10 a.m.-4 p.m. at Mathews Park. Please visit Old-Fashioned Flea Market 2023 for more information and for vendor applications. We look forward to seeing you!
On Sunday, September 18, 2022, 10 a.m.-4 p.m., the Lockwood-Mathews Mansion Museum will hold its 15th annual Old-fashioned Flea Market in Mathews Park, Norwalk, CT.
"Don't miss this spectacular market," said Committee Chair Steve Balser. "As with many popular events in this
recovery period, our annual Old-fashioned Flea Market is growing by leaps and bounds. We expect even more dealers and buyers to show up this year. We look forward to welcoming one and all."
The Mansion's event will offer bargain hunters and Flea Market enthusiasts an opportunity to spend a day outdoors, rummaging through a variety of merchandise to find unique and rare items or the perfect collectible among the many vendors' booths displaying antiques, repurposed furniture, jewelry, crafts by local artisans, household items, clothing, toys, and specialty farm-to-table items.
The Mansion will manage a White Elephant Table and sell items generously donated by supporters that run the gamut from gently-used to upcycled. A classic and antique car show will return to the park and feature vintage and antique automobiles for memorable selfies, courtesy of the Connecticut Seaport Car Club. Food trucks will include The Chamo, serving outstanding Venezuelan beach cuisine, and El Placerito, serving tacos and other delights.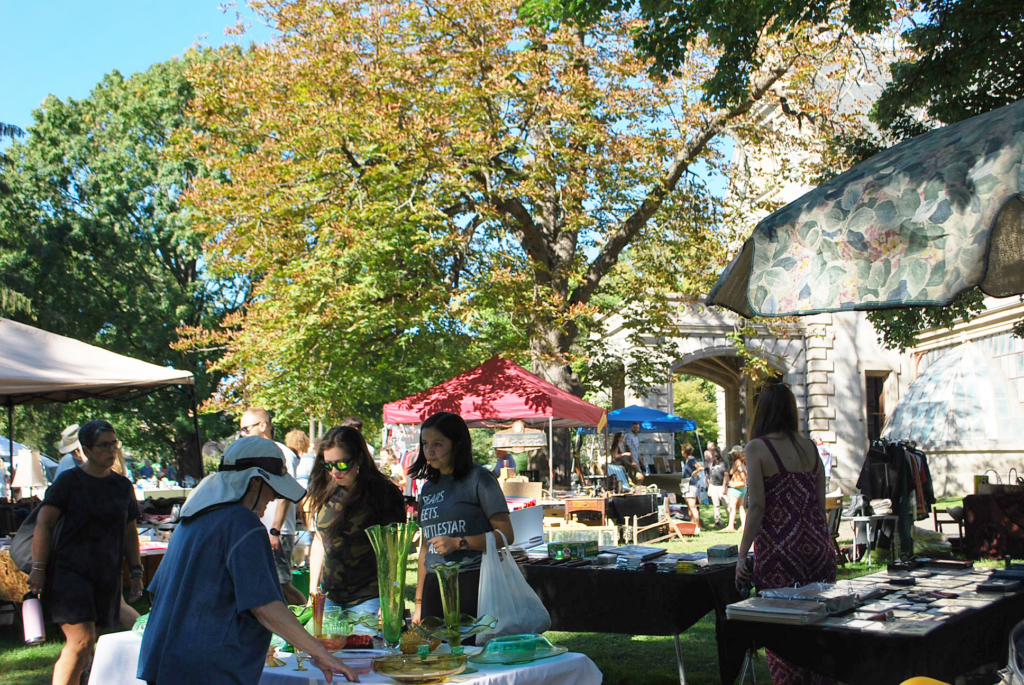 The Museum will be open for $5 Mini Tours from 10 a.m. to 4 p.m., and the Museum Gift Shop will feature new merchandise and a broad selection of gift ideas including fabric totes, monogrammed dishtowels, designer jewelry, elegant scarves, books, and other museum-centered accessories.
All proceeds will benefit the Lockwood-Mathews Mansion Museum's educational and cultural programs. The Museum has donated several booths to area nonprofits, who will share their message and mission with attendees.
Vendor spaces are 10×16 ft. and cost $75 per space. Food vendor booths are $150. Deadline is September 1. Vendors wishing to reserve a space or purchase an ad in the program booklet distributed to all visitors call Charles Hill, Education, Building & Events Coordinator, 203-838-9799, ext. 117 or email [email protected].
The 2022 Season is made possible in part by CT Humanities with generous funding provided by Connecticut State Department of Economic and Community Development/Connecticut Office of the Arts (COA) from the Connecticut State Legislature; LMMM's Founding Patrons: The Estate of Mrs. Cynthia Clark Brown; LMMM's Leadership Patrons: The Sealark Foundation; and LMMM's 2022 Season Distinguished Benefactors: The City of Norwalk, The Maurice Goodman Foundation and Lockwood-Mathews Foundation, Inc. For more information on the Flea Market, tours and programs, please email [email protected], or call 203-838-9799.