Old-fashioned Flea Market September 19, 10:00 am - 4:00 pm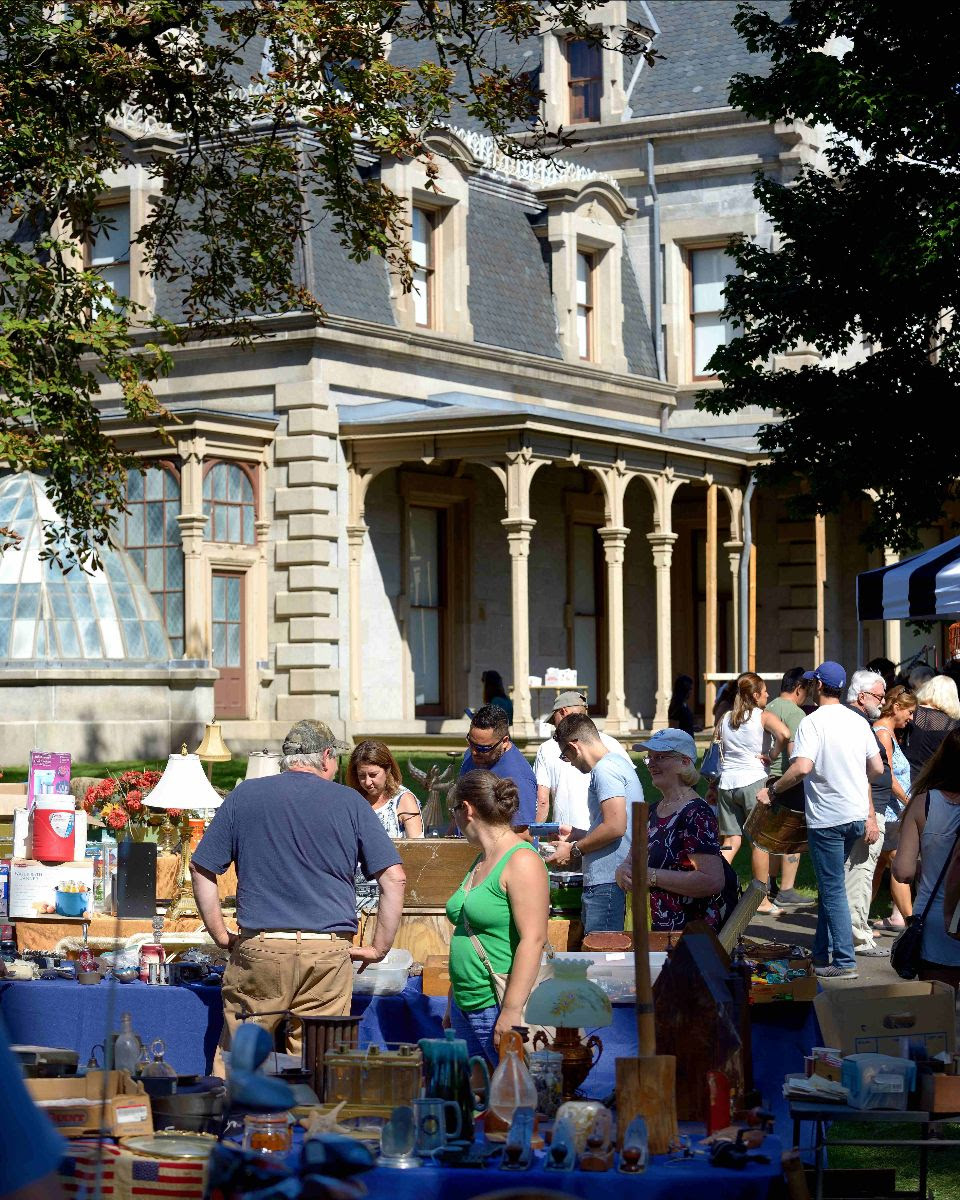 Free admission to event at Mathews Park
On Sunday, September 19, 2021, 10 a.m.-4 p.m., the Lockwood-Mathews Mansion Museum will hold its 14th annual Old-fashioned Flea Market in Mathews Park.
The event will offer flea market enthusiasts and staycationers alike an opportunity to spend a day in the park hunting for bargains and exploring a variety of merchandise including antiques, repurposed furniture, collectibles, jewelry, crafts by local artisans, household items, clothing, toys, and specialty farm-to-table items. The Mansion will manage a White Elephant Table and sell items generously donated by supporters including a selection of vintage jewelry, old dishware, a cowboy hat, and a vintage school desk, that run the gamut from gently-used to upcycled. A classic and antique car show will return to the park and feature vintage and antique automobiles for memorable selfies, courtesy of the Connecticut Seaport Car Club. Food trucks will include SWAT for wings and things and The Chamo, serving outstanding Venezuelan beach cuisine.
The Museum will be open for $5 Mini Tours from 10 a.m. to 4 p.m. and the Museum Gift Shop will feature new merchandise and a broad selection of gift ideas including fabric totes, monogrammed dishtowels, designer jewelry, elegant scarves, books, and other museum-centered accessories.
All proceeds will benefit the Lockwood-Mathews Mansion Museum's educational and cultural programs. The Museum has donated several booths to area nonprofits, who will share their message and mission with attendees.
Please call Charles Hill, Education, Building & Events Coordinator, at 203-838-9799, ext. 117 or email chill@lockwoodmathewsmansion.com for more information.
The Museum will adhere to rules and guidelines in keeping with City and State regulations, CDC recommendations, and industry standards for best museum practices to address COVID-19 health and safety concerns. The event will take place rain or shine.
Event sponsored in part by: