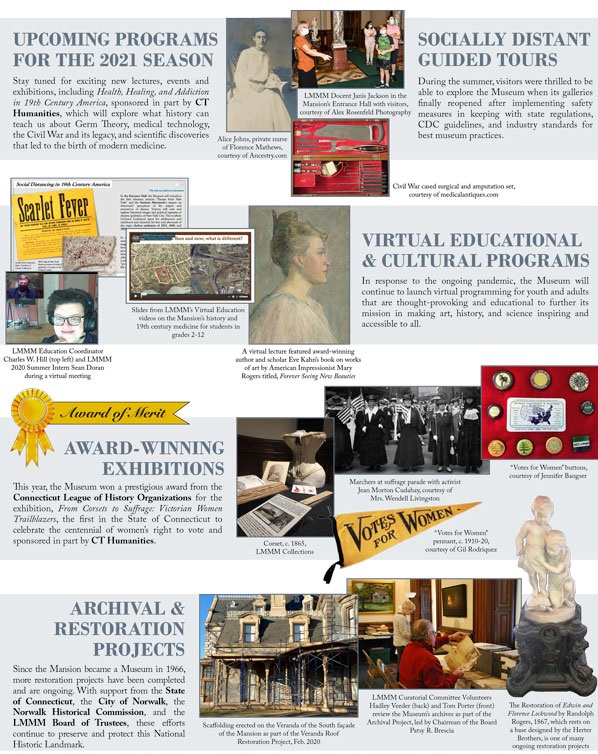 Please Make a Gift
to the Annual Appeal Today
Dear Friends,
In these unprecedented and tumultuous times, the Lockwood-Mathews Mansion Museum has been a place of dialogue, of learning, and of healing for our communities. Despite the economic shortfalls due to the pandemic, we have continued to serve our visitors both virtually and in-person, while complying with new government-mandated health and safety protocols.
This year, the Museum won a prestigious award from the Connecticut League of History Organizations for interpreting women's suffrage in the exhibition, From Corsets to Suffrage: Victorian Women Trailblazers, a recognition of the continued vitality and relevance of this cherished institution.
The Museum reopened for tours in July, and its expansive and magnificent Period Rooms have provided socially distant house tours and a contemplative and inspiring atmosphere featuring the exhibition, About Women, in collaboration with Silvermine Arts Center.
Virtual programs have included: a presentation on women of color and their role in the suffrage movement, in collaboration with the Connecticut Historical Society; an educational video for elementary school students, connecting the history of the Mansion to events of city, state, and national significance; a narrated PowerPoint presentation on the upcoming exhibition on 19th century medicine, sponsored by CT Humanities; a lecture on Impressionism by Eve Kahn, an award-winning author and scholar; a virtual Flea Market; and more.
However, despite the resolve to keep providing meaningful, educational programs and tours during the pandemic, the Museum has suffered a drastic erosion of its income. We urgently need your generous support to continue to carry out the Museum's mission and protect and preserve this irreplaceable landmark.
With gratitude and best wishes,
Patsy R. Brescia – Chairman of the Board of Trustees Susan Gilgore, PhD – Executive Director
Please Make a Gift
to the Annual Appeal Today